We use two different programs for art instruction. Each has a different purpose for us.
The chalk pastel tutorials by Southern Hodge Podge provide a fun way to create art quickly. Anyone can use this medium! Even following the same tutorial everyone's picture looks a little different.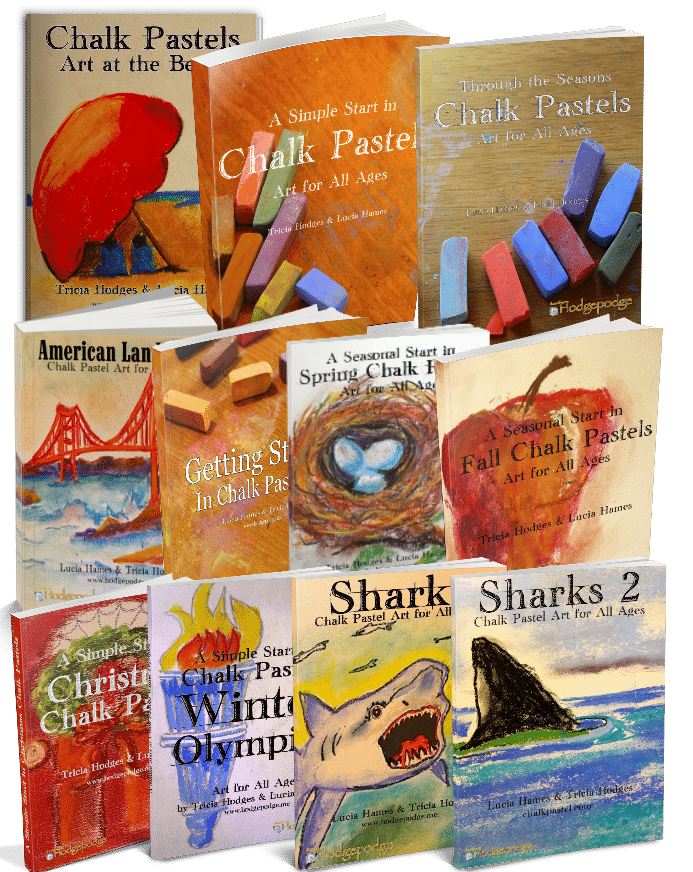 We use ARTistic Pursuits for technique instruction. The lessons are developmentally appropriate and older students (grades 4+) can complete the lessons independently.
ARTistic Pursuits is a unique homeschool art program designed to involve children in the creative process while developing skills of observation. The text seamlessly integrates all components of a fine art education by engaging students in building a visual vocabulary and using critical thinking skills as they explore creativity, art history, art appreciation, and art techniques using real art materials and tools. Students love the inviting, full-color art lessons that teach both expressive and technical aspects of art while allowing them to make choices about what and how they will draw, paint, and sculpt.

~ from the ARTistic Pursuits website
Most art supplies can be found at local craft stores. Watch for them to go on sale or use store coupons. These also make great gifts from grandparents. We have found the following supplies to be helpful to have on hand.
Preschool art supplies:
Drawing paper pad, 9″ x 12″ and giant floor pad
Construction paper, assorted colors
Finger paint paper
Watercolor paper
Age appropriate scissors
Washable glue
Washable finger paint
Washable watercolor paint
Washable markers
Washable crayons
Art/craft brushes
Stamp pads for fingerprint art
Elementary art supplies:
Drawing paper pad
Construction paper, assorted colors
Watercolor paper
Tissue paper (assorted colors)
Scissors
Ebony pencils
Vinyl eraser
Soft pastels
Oil pastels
Watercolor crayons
Watercolor pencils
Watercolor paints
Watercolor brush
Acrylic paints
Canvas
Artist quality markers
5lbs. gray self hardening clay
Air dry clay
Regain Control Of Your Homeschool
Use this simple strategy to deal with difficult homeschool days.

Stop feeling overwhelmed and behind on lessons.
Get back on track and gain control of your homeschool days.
Learn how to avoid that drowning sensation in the future.
You will also receive weekly emails to help you find peace in a simple, intentional homeschool. If it's ever too much, you can unsubscribe at any time.