Did you know that not all snowflakes are symmetrical? I assumed they were, but as I researched for this post I discovered that they rarely are perfectly symmetrical. Even so, snowflakes still provide an excellent opportunity to study symmetry.
What is a snowflake?
A snowflake is actually hundreds or thousands of snow crystals connected together. A snow crystal forms when water vapor condenses into a water droplet. The water droplet freezes into a ball of ice. The frozen water droplet then grows into a hexagon shaped ice crystal. The ice crystal continues to grow and forms branches. The snow crystal is pure ice and is clear and colorless. It appears white to us because it reflects light.
What are the shapes of snow crystals and what determines the shape?
We are most familiar with star-shaped snow crystals, but there is a lot larger variety. Read about the sixteen different types of snow crystals including plates, needles, columns, and twelve-sided crystals. The shape of a snow crystal is primarily determined by how cold the temperature is.
Why do snow crystals have six sides?
Snow crystals have six sides because water molecules attach themselves in a hexagonal shape. Some snow crystals are twins. Two snow crystals grow on top of each other and form twelve sides. As the snow crystal grows branches, they form off one of the six sides.
What about snowflake symmetry?
A perfectly formed snow crystal is symmetrical. Each branch of the snow crystal grows independently but generally at the same rate because it is exposed to the same temperature, thus creating six-sided symmetry. Most snow crystals are not symmetrical though. One side might grow faster than the others or it may bump against another crystal as it falls, causing a branch to break.
You can see snowflake symmetry first hand by observing snowflakes you catch or by cutting out snowflakes. Experiment with different cuts to see how the design changes. (See the video tutorial below for cutting six-sided snowflakes.)
Are there identical snowflakes?
Simple snow plates, hexagon shapes, can be identical. More complex star-shaped crystals are not identical. They all grow and fall at different rates, causing their design to be different.
How to catch snowflakes for observation
Observing snowflakes is an excellent activity for kids. All you need is a dark piece of paper, such as black construction paper or foam board, and a magnifying glass. Take the paper outside for awhile before catching any snowflakes to allow the paper to become the same temperature as the air to prevent the snowflakes from melting as fast. Once the paper is cooled, hold it out parallel to the ground and catch snowflakes. Observe the snowflakes on the paper with a magnifying glass. You can dump the flakes off and catch more.
How to cut a six-sided snowflake
Learn more about snowflakes and snow crystals
www.snowcrystals.com is an excellent resource for learning more about snowflakes and snow crystals. You can also see AMAZING photos of actual snow crystals.
Books about snowflakes:
Other crafts and activities related to snowflakes
Ballerina snowflakes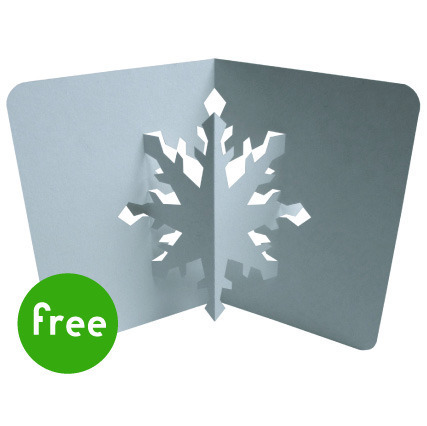 Pop-up snowflake cards

ice spikes
---
This post has been linked to Snow Day Activities